Introduction
About a month ago, I had announced on this website that I had been invited to give a talk at the Government College University (GCU), Faisalabad and that this invitation came from the Acting Dean of Social Sciences and also the Chairman Department of English Literature, Dr. Mazhar Hayat. As a result, I visited GCU, Faisalabad from Aug 5, 2019 until August 7, 2019. This article, in a way, is my post-visit homage to the GCU English Department and a declaration of my intent to further collaborate with the department in the future.
My Visit to GCU: The Best Experience as a Guest Scholar
Those of you who follow my scholarly and academic activities probably already are aware that I try my best to make myself available to any and all Pakistani institutions interested in my area of expertise. Over the years, I have traveled to several major and many small colleges and universities to deliver lectures, to present conference papers, and to simply give talks to small graduate classes. I have also interacted with Pakistanis students and scholars through skype lectures and online webinars. I am sharing all these experiences to highlight that what I am about say below, about my visit to GCU, is not only sincere but also based in comparison to varied other experiences:
Both professionally and in terms of their generosity and hospitality at all levels, I consider my visit to GCU as the best experience of my life as an academic and as a public scholar!
Hospitality During my Visit to GCU
Please bear in mind that I am not much for protocol and when I visit different institutions to give a talk, I never expect any formal recognition or any special treatment, but, I must admit, the way the GCU English Department treated me during my visit could well be termed as the superlative example of Pakistani hospitality.
They had made my stay arrangements at the Chenab Club and when I reached there, three faculty members were already there to receive me: Professor Khalid Hassan, Dr. Ali Usman, and Munim Khan. They made sure that I was comfortably checked in and after a bit of rest, I had dinner with Dr. Mazhar Hayat and a few other faculty members. I must also point out that the department also made wonderful arrangements for my driver at their faculty hostel!
Professor Khalid Hassan had arranged for me to have breakfast at the club around 8:15 in the morning, but instead he invited me to have a homemade breakfast at his house. We had a traditional Pakistani breakfast including homemade lassi and for this, Professor Hassan deserves my thanks and gratitude.
My Talk on the Second Day of my Visit to GCU
My talk was entitled "Postcolonial Studies in the Era of N eoliberal Globalization," and since the university was mostly on summer vacations, I was not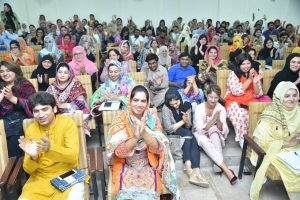 really expecting a large audience. I was, however, pleasantly surprised to see a packed hall of about hundred and fifty students and faculty. Furthermore, this was not just a generic talk in which one of the hosts just simply read the contents of my wikipedia entry as an introduction! Instead, Dr. Muhammad Asif, who introduced me, did so with a deep knowledge of my published work and, surprisingly, the students in the audience also seemed aware of my work. I was later told that quite a few professors teach excerpts from my first book and that their students also discuss some of my published articles within the context of their classes. On the whole, even before the talk started, I was deeply impressed with the genuine interest of the faculty and the students and also of the whole professional atmosphere of the venue.
My talk went well, but the question answer session was even better: The faculty and students all asked the most interesting and relevant questions. I was also impressed by the fact that some of the questions were related to my own previously published work and it was gratifying to hear someone from the audience mention my previously published work and then relate the question to my talk. Overall, I can say without a doubt, that this was the best interactive scholarly session that I have ever been a part of and the credit goes to the leadership, the professors, and the students of GCUF English department.
Lunch with the VC, Dr. Shahid Kamal, and the English Faculty
My talk was followed by a formal lunch where the honorable Vice Chancellor, Dr. Shahid Kamal, also joined us. I was deeply impressed by the VC's interets in the humanities and in his desire to also develop some further programs for their students in the future. As a result, Dr. Mazhar Hayat and I decided that we will develop a future program where I could visit the campus for a longer period to run a couple of workshops for their faculty and students. The VC was deeply in support of any such future ventures.
Dr. Mazhar Hayat and I hope to plan a workshop sometime in the near future where I will go and stay in Faisalabad and then run a couple of focused workshops. I have no doubt that any such program will have the committed support of the office of the GCUF Vice Chancellor and that for me it would be yet another memorable visit to GCU, Faisalabad.
Evening Session with Graduate Students
During my visit to GCU, the department also made yet another best use of my time by organizing an evening session with graduate students who are working on their dissertations. Thus, I was able to learn about various exciting research projects and in turn, as best as possible, was able to share my ideas about their projects. I was also glad to know that some of the students were actually using my published materials as part of their research!
I found the graduate students to be highly inquisitive, well trained and deeply aware of the varied nuances of their research projects. The session ended with a formal dinner and the department made sure that the students were able to attend the dinner along with the faculty.
Conclusion
Overall, as I stated in the beginning, this was the best visit I have ever had in Pakistan, especially since the GCU English department treated me with kindness and generosity but, more importantly, because they allowed me to share most of time there with their faculty and students. I am looking forward to developing a long-term professional relationship with GCUF and my hope is that my this visit to GCU will end up being the beginning of a long and mutually beneficial relationship! Here I would Like to once again thank the VC, Dr. Shahid Kamal, Dr. Mazhar hayat, Dean of Social Sciences, and the faculty and students of GCU, Faisalabad!