Public Talks on Postcolonialism and Neoliberalism
I am delighted to share that if all goes according to plan, in August I will be delivering two public talks on topics related to Postcolonialism and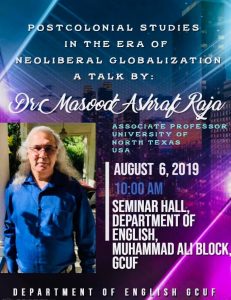 Neoliberalism. My hope is to first introduce my basic understanding of postcolonialism and postcolonial studies, follow it up with an explanation of my understanding of neoliberalism, especially neoliberal globalization, and then share some ideas about how to incorporate these knowledges in our reading and teaching of postcolonial texts.
I have previously written a few blog entries about postcolonialism and neoliberalism and these two themes also find a prominent place within my published work and in my teaching methodology and practices. For example, in my reading of Rohinton Mistry's A Fine Balance, I explore the aspects of postcolonialism and globalization that can make us read the novel differently and probably more acutely. My hope is that I would be able to make this knowledge about Postcolonialism and neoliberalism accessible to my Pakistani audiences.
On Postcolonialism and Neoliberalism at Government College University (GCU), Faisalabad, August 6
My first talk is scheduled on August 6 at the GCU campus. I am grateful to Dr. Mazhar Hayat, head of the English Department, for reaching out to me and for arranging this talk. I also have a few other friends on this campus as well, Dr. Asif and Dr. Asma, and I am looking forward to seeing all of them. Most importantly, I am looking forward to meeting the GCU graduate students and learn of their experiences and their academic and scholarly aspirations. Dr. Mazhar Hayat has also kindly set aside some time for me to meet the M.Phil students to share some ideas about their scholarly projects, and I am excited about this opportunity to meet these GCU students. Overall, the department of English at GCU deserves my gratitude for inviting me and for making it possible for me to interact with their faculty and students.
Postcolonialism and Neoliberalism at QAU, August 8
On August 8, I will be delivering a second lecture on Colonialism and neoliberalism at the Quaid-e-Azam University, the flagship research university of Pakistan's Federal government. Uzma Aziz, a Ph.D. scholar at QAU and a dear friend, invited me to give this talk and her Head of the Department, Dr.Umaima Kamran, kindly made it possible for the talk to be organized and widely advertised. I have been told that faculty and students from several departments will participate in the event. I am really looking forward to meeting QAU faculty members and graduate students and hope to have some enlightening exchanges about postcolonialism and globalizations and about the nature and scope of their research projects.