Introduction
A fine Balance was published in 1995 and is probably one of the best novels about India and everyday struggles of average Indian citizens during the early stages of liberalization/ privatization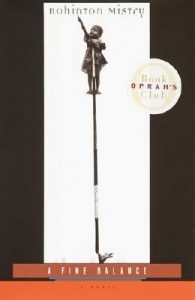 of the Indian economy. In other words, A fine Balance, can teach us a lot about life in the postcolonial world within the current regime of neoliberal economics. This brief guide is meant for the students of Postcolonial Studies, especially those beginning level students who might not be familiar with the major debates of Postcolonialism, or those who might even be asking: What is Postcolonialism or Postcolonial Studies?.
This not a summary of A Fine Balance, nor is it a an exhaustive article and might leave some more questions in your mind; If that happens, please feel free to share your thoughts and ideas in the comment section below and I will try to address them. And if you see something obvious or interesting that I might have missed, please feel free to also mention it, for that would make this article into a better resource for students and scholars of postcolonial studies.
Question 1: A Fine Balance: Significance of the Title?
Even before you start reading A Fine Balance, significance of the title itself is a good thing to consider first. As you read the novel, please ask yourself this question: Why is the novel entitled A Fine Balance? Generally speaking, we are all trained to read a novel as a self-contained narrative world and we also read the individual characters with reference to their choices and actions within the framework of a given narrative. That is why our definitions of character types are always connected to either the agency afforded to the characters (do they act or are they acted upon) or upon their ability to change over the course of the story (the distinction between round and flat characters). But here, in a Postcolonial novel, is this Fine Balance, only about the individual choices of the characters or are some of their choices already overdetermined?
In my opinion, and you can completely disagree with me, A fine Balance refers to the life within neoliberal capital, a life that requires such a fine balance that one misstep can lead one to failure and disaster. So, to me A Fine Balance, thus, is not necessarily about the Fine Balance in the lives of individual characters, but A Fine Balance within the neoliberal economy that they must maintain in order to succeed and sustain life. Furthermore, I believe, that the novel IS about the Precarity of life created by this fine balance, and the larger dependencies that determine our actions within the neoliberal capital.
Question 2: What Kind of Path to Freedom Does Ms. Dalal Pursue?
Here is how Ms. Dina Dalal's state of mind is described at the end of the Prologue:
When Maneck left her flat, she began pacing the room, suddenly restless, as though about to embark on a long voyage. No Need now to visit her brother and beg for next month's rent. She took a deep breath. Once again, her fragile independence was preserved. (11, emphasis mine)
It is obvious from the above passage that Dalal is working toward her reducing or eliminating her dependency on her brother, or patriarchy, and in this sense her attempt to follow her own path is laudable and fits perfectly in our own romantic imagination about women's struggle and resistance. We all have been trained to imagine freedom in "economic" terms, for if we are economically independent, we will, we all believe imperceptibly, be able to live a free and independent lives. This economism is do deeply embedded in our consciousness that even at a larger scale our collective investments are absolutely always connected to what is termed providing "economic opportunities." In fact, the framing of freedom depends mostly on an economic frame: upward mobility, self reliance, financial freedom are the metaphors that we employ in describing this will or struggle to freedom. And. in a romantic sense, we always see these struggles as individual struggles, so if someone succeeds, the success can be attributed to their resilience and diligence, but, conversely, when someone fails, we can very easily blame them for their own failure as well.
Within the novel, though, the situation is not so simple, and maybe, in this way, the novel may teach us to see our actions not necessarily as our individual actions but rather actions either prompted by the world around us or by the limitations of an economistic imagination. So, the novel starts with Md. Dalal attempting to free herself through the means of neoliberal economics: she wants to tap into the burgeoning market of labor intensive jobs that have been moved to places like India and Bangladesh and hopes that this entry into the market will enable her to earn enough money to be free of patriarchy in her own life and from dependency on her family. There is, thus, an attempt to freedom through free enterprise.
But this movement into the neoliberal economic system also exposes her to the turbulence and destructive power of the system itself. So, while reading the book, one ought to think about the nature of her struggles:
[qcld-ilist mode="one" list_id="2160″ upvote="off" disable_lightbox="false" column="1″]
How many of her struggles are because of her own bad choices?
What percentage of her struggles and trails are because of the unjust economic system within which she is trying to make her space?
Could she have done better if she had some legal or state protections?
Could she have done better if she had been a part of a larger workers collective instead of being an individual petty producer within the neoliberal market?
And, in the end, is her failure because of her own flaws or because of the flawed system of neoliberal economics within which she struggles?
Question 3: What do we Learn about the Rural/ Urban Divide in the Neoliberal Economy?
Besides other things, A Fine Balance also broaches the subject of Rural/ Urban divide of India. Our two tailors are both from the rural part of India who have moved to the city to make a new life fro themselves. Thus, in this case also, this is a move by two skilled workers to escape the very givens of their life through a movement into the Indian, and global, economy. But their this move also, like the peasants of the early stage so capital, makes them the ideal subjects of exploitation and their lives in the city are doubly precarious: they depend on the work and the rates offered by Ms. Dalal and, having left their village under duress, they cannot even escape back to their rural roots.
I have discussed this phenomenon under the two registers of Formal and Real subsumption of labor elsewhere, but here it is important to keep in mind the power of more than one impediments to one's life in neoliberal capital and one could also read the actions and experiences of the tailors as an example of the precarious lives of rural workers as internal migrants or workers who immigrate to the developed nations and work under similar precarious conditions. And, of course, this question should also make us think of our own lives and trace the persistence of precarity in our own lives.




Question 4: What Happens When the state can no longer protect its workers and citizens?
In my first reading of the novel, I had found the introduction of the Beggermaster character as bizarre and not very useful to the general plot of the story. I also felt, as if, Mistry was simply trying to exoticize his narrative by introducing this remarkably predictable villain. But now, after having learned to read differently, i find the Beggergrmaster section central to the plot of the novel and find it extremely significance in understanding Mistry's critique of neoliberal economics. In a way, one learns, that the entire balance in the story, especially toward the end, depends upon the benevolence of this private citizen with the power to protect or abandon Ms. Dallal's venture. Thus, in the absence of state protection and at the mercy of the middlemen, who give her the piece work sent by the global corporation, Ms. Dalal survives only because the Beggermaster becomes her protector and benefactor. What does this teach us? That in order to succeed, one would need some kind of private protection? Or the only way to protect your interests within the neoliberal postcolony is to build some sort of alliances with the urban underground? But indirectly this section also teaches us that violence and power, within the neoliberal regime, has been privatized and in most of the cases your success will also depend upon the possibility of building an alliance, economic or social, with the local private power-brokers. So, if this is the case, why isn't this aspect of the neoliebral economy mentioned in the works of major apologists for free markets and deregulation?
Question 5: What does A Fine Balance Teach us about the World and about our Place in it?
I find this to be one of the most important questions to ask of all postcolonial literary text. This means going beyond the text itself to reflect on our own lives and our place within the global hierarchy of selfhoods. What characters do you most relate to and why? Does the novel make you see the world and your global others with empathy or do you blame them for their own failures? There is nothing wrong about feeling the way you feel, but these feelings should make you reflect upon your own place in the world. The novel should also encourage you to ask yourself this important question: Within the logic of the story, who would you side with, stand in solidarity with, if given a choice. Answering this question honestly will tell you what kind of a person your are!
Conclusion
As I said in the beginning, this is just a brief guide about A Fine Balance. I am sure, when you read it, or if you have read it, you will come up with many different insights. Please do share those insights in the comments section below!