I just wanted to share that Postcolonial Space now has a
Newsletter
and a mailing list. We are currently testing the Newsletter and also requesting people to
sign up
.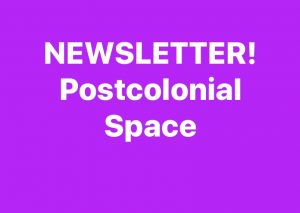 Please check your spam folder to make sure the Postcolonial Newsletter does not end up there!
Purpose and Frequency
The purpose of the Newsletter is to share the news about the field , articles, conference CFPs, and member announcements. At this point our plan is to send one Newsletter per week. WE have also recently started a series of postcolonial-themed webinars and if you join the Postcolonial Space Newsletter then you will always be the first ones to get the details of these webinars. Also, we will try to include particular news about the field of postcolonialism and any other relevant information in our regular newsletters.
How to Sign Up for Postcolonial Space Newsletter?
You can sign up in different ways:
Want to Share your News and Ideas?
If you need to share news about your research, teaching, conference or any other aspects of your academic life as a postcolonialist, please CONTACT US to send us your information.
Thank you!