(Note: This article has neither been commissioned nor sponsored by Hide and Drink nor have I accepted any payment or free goods from them:)
Hide and Drink Introduction
Those of you who have ever heard me speak about the global economy or the current regime of capital are most probably aware that I often talk about wage slavery that is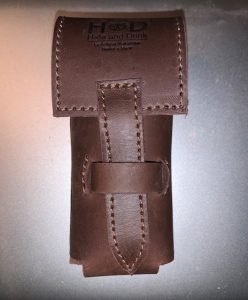 now one of the defining features of neoliberal capital. In this unjust system of commodity production and consumer culture, it is often hard, and sometimes impossible, to make ethical purchasing choices, but people like me often keep trying to make our purchasing decisions in a way that we can also support businesses with ethical and labor-friendly practices. Thus, A couple of weeks ago, In my search for specific leather products, especially hand-crafted leather products, I was able to find one such company that combines fine quality, artisan-made products with labor-fereindly practices: a company named Hide and Drink. Here is Hide and Drink in their own words:
Hide & Drink is a vertically integrated community driven brand dedicated to support the local community in La Antigua, Guatemala. Our product is designed, sourced, and manufactured by local artisans for the benefit of local residents. Our wages are fair and we emphasize for-profit development through entrepreneurial education. In addition to creating jobs through the manufacturing and sale of our products, we contribute 5% of our Gross Profits to an outstanding organization: Niños de Guatemala (NDG). (https://hideanddrink.com/pages/ninos-de-guatemala-1)
Wet Shaving as a Path to Hide and Drink:)
First, a bit of an explanation as to why was I looking for leather products:) So, about a month ago, I decided to go back to shaving with a Double Edge Safety Razor, instead of using the expensive and inefficient cartridge razors. This decision sent me to YouTube and other sources, looking for the best possible safety razors, related shaving products, and, of course, videos on the proper technique. I finally settled on purchasing the following three razors (extravagant, I know:)
Ordering and Receiving my First Hide and Drink Product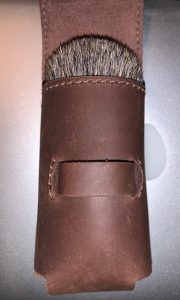 Now that I had acquired the safety razors and other shaving materials, I started looking for the best possible travel kits for my shaving materials. Certainly, I was not going to use the cartridge razors while traveling:) Now this search for nicely made storage tools/ products for my shaving equipment led me to Hide and Drink on Amazon. I first searched for a leather cover for me shaving brush and instantly found it listed on Amazon. Of course, I ordered and and when it arrived I was impressed by the fine quality leather and the quality of craftsman(woman)ship. The pouch came in a nice cotton bag and contained a card that provided the name of the artisan who had made it! I was hooked!
So, now I was sure of the quality and was also confident that this company did employ craftspeople who took pride in their work and who were also paid a fair wage. Furthermore, the company also invests in local schools and I was able to verify that information through a through internet search. In my view, I had found the perfect company for all my leather goods needs:) I musta dmit, that I mostly get my leather products custom-made in Pakistan and thus cannot abide purchasing mass produced fake leather goods. In Hide and Drink, I felt I had found a company that could match my needs, my aesthetics, and my politics!
Needless to say I was delighted to have discovered them and instantly started looking for more items to purchase:) Now that I had a brush holder, I also decided to order their safety razor cover, which also lived up to the expectations. But then, of course, all this "stuff" needed to be carried in something:) I thus looked for a Shaving kit bag and , of course, Hide and Drink had the perfect bag for me.
The Shaving Kit Bag/ Dopp Kit
The shaving kit bag is a thing of beauty. It is made of best quality leather, and the stitching is nice and precise. The bag also has good quality zippers and maintains its rectangular shape. I have already started putting my "travel" materials in it:) The bag was a bit pricey but considering that it is fine quality leather and, unless I lose, I will never have to buy another dopp bag, it is a great bargain. The size is perfect for fitting it into my carry on bag or in the checked in luggage if I am flying for travel. The best things about having a nice dopp bag is also that it encourages me to have a reserve shaving kit ready, so that I don't have to scramble to put together my travel toiletries at the last minute.
There is only one little problem that I have with this bag: The flap on one side (the one above the handle in the picture) has a click-in button that is pretty hard to close as there is no way of providing it support from the back when the bag is zipped up. I do hope the company fixes this problem in their future production of this item.
Further Adventures with Hide and Drink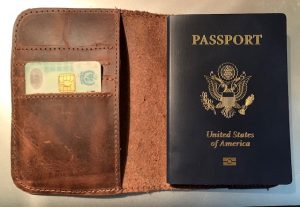 Now that I was hooked and had already ordered what I needed for my shaving and my shaving travel needs, I obviously moved on to other affiliated products:) Since we all sometimes need a passport to travel, so why not purchase a Passport Holder? So, I ordered it and I am happy to report that it is of fine quality and perfect for my use, as I have to carry my Pakistani ID card along with my Passport! The passport cover is small enough to fit in my front pocket, though I have not tested it for that yet!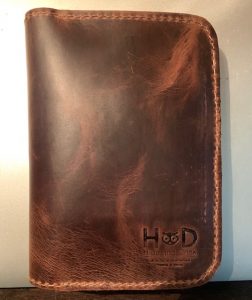 I must admit, that it does feel great in my hand and it obviously will last a long time. The craftsmanship is superb and the leather quality is also great. I have now also ordered their minimalist wallet, which would be perfect for what I usually carry in my currently nice but bulky wallet.
Conclusion
So, to conclude I would once again like to reiterate that I wrote this review article because this company, HIDE and Drink, fits all my criteria for a good business: They support local artisans in marketing their crafts, pay a fair wage, and they also support the local schools with their profits. Furthermore, the products are beautifully crafted with fine materials!
We all have to purchase commodities in our highly capitalistic society. I feel great that my these purchases, at least, support a business model that I can appreciate and agree with!