Brief Biography
Mariama Ba (1929-1981) is a Muslim Senegalese author most famous for her epistolary novel So Long a Letter. the novel, considered autobiographical, is narrated in the form of a letter from the protagonist to her old friend Aissatou, and, after mentioning the important aspects of their long friendship, narrates the story of her husband's funeral, her life, and her struggles after her husband's death. Ba was a vocal feminist and challenged the traditional patriarchy of her culture throughput her life both in her writings as well as through her political activism.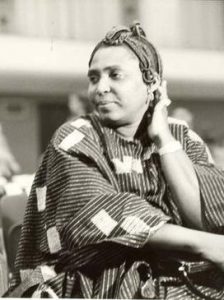 Major Works
So Long a Letter. 1981. Waveland Pres, 2012.
Scarlet Song, Translator Dorothy S. Blair, Longman, 1995.
Resources on Ba