Webinar: Radical Pedagogy
In my published work I often cite Mark Bracher's work (Radical Pedagogy: Identity, Generativity, and Social Transformation) to argue for the kind of pedagogy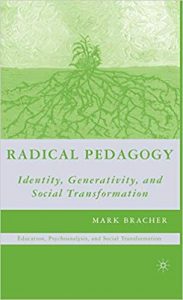 that goes beyond simple dispensation of knowledge and attempts also to take into account the identity dynamics at play in a classroom. This brief lecture offers an overview of Mark Bracher's book "Radical Pedagogy," sums up his main arguments and explains the significance of his theory for humanities teachers.
You can order Mark Bracher's Book here: https://amzn.to/2nxW7IA
Details
Date: Saturday, October 19, 10:00 am US Central Time (7 pm PST)

This seminar will focus on a detailed discussion of Mark Bracher's work on Radical Pedagogy
Format
I will not be able to see or hear you, but you will be able to interact with me in two ways:
You can send me your questions in advance through our Contact Form, and I will incorporate those in my lecture.
You can also add your questions, using the chat box on the webinar page, during the live lecture.
The Back Up Plan
If, for some reason, the YouTube Streaming does not work, then I will stream the lecture on my FB book page at the same time and date. Here is the link to that: Masood Ashraf Raja!