Udemy Course on Postcolonialism
I just wanted to take a few moments to introduce my Udemy course on Postcolonialism. The course just went live yesterday and includes, at the moment, basic introduction to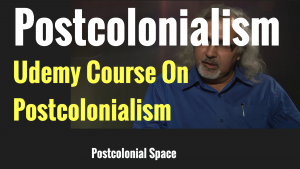 postcolonialism, postcolonial theory, and postcolonial literary studies. I will keep on adding resources to the course so it will grow into a large body of knowledge.
Course Link:
If you are interested in postcolonialism, you can use this link below to sign up for the course: https://www.udemy.com/course/postcolonialism/?referralCode=6567BD9896B38E93335A
Udemy Course on Postcolonialism Description and Learning goals
I have described the learning goals on the course website as follows:
This course will introduce you to field of postcolonial literature and theory, which deals with the literary texts and art produced by the people of former European colonies. Included also in the course is a thorough explanation of the works of major theorists of postcolonialism, a brief history of postcolonial responses to the European colonization, and a discussion of the major debates within the field of postcolonial studies.
This course will be exceptionally useful to you if you are taking a course (undergraduate or graduate) on postcolonialism.
What you will Learn
A clear discussion of postcolonialism as a concept and as a field of study.
Introduction to the works of some major postcolonial authors.
Introduction to the works of some major postcolonial theorists.
Application of these ideas and this knowledge to the real-life situations.
Relevance to Today's World
No matter what your field of study or your profession, in this increasingly globalized world, one needs finely-honed habits and skills of cross-cultural understanding. This course will enable you to develop these cross cultural critical skills.
Note: This is an ever-growing course and I will keep on adding materials to it regularly!
Please join the course and enjoy learning in your own time!!
https://www.udemy.com/course/postcolonialism/?referralCode=6567BD9896B38E93335A
Video Announcement: